Dakota is the sona of StrawburryDoggo. Full rights go to her, and copied art or characters will be reported. ©!!
Dakota is a pup in the Dalmatian family, born to Delilah and Doug.
fun
skateboarding
hanging with Dolly
teasing Dylan
rubbing Clarissa's fur the wrong way
causing a bit of chaos
rolling in mud
getting dirty
listening to music with DJ
Art with DaVinci
partying
sliding down the rails like Dolly
going to the park
doing trigger words to get someone trampled
Clarissa and Hugo
people who think of her as prissy for being female
people who mess with Dolly, or any of her close siblings
Cruella De Vil
rules
Dylan's lame books
Poodlewolf
anything with De Vil
being trampled by puppies
being pestered
baths
brushing teeth
most types of hygiene
being wrong
corny and or cheesy jokes
Being clean
skateboarding
rolling in mud
hanging with friends
chewing things
sleeping
howling to scare humans
getting Clarissa angry
listening to music with DJ
In Progress
Dakota is about Dolly and Dylan's age, the teeniest bit younger.
Dakota, nor her family, really remember anyone's birthday since there are so many pups. So all the pups pick a random date and write it down, and that day will be celebrated as their birthday. Dakota chose June 27.
She is adventurous and skillful, while loving to have fun and slack off. She loves to skateboard and often hangs with the Canal Crew or Dolly when bored. Dakota is a tomboy in every way, and Dylan considers her a bad influence for the pups. She thinks of Dylan as annoying, dorky, bossy, uptight, and all in all doesnt like him. But some of her siblings have a special connection to her, such as DaVinci, and she loves those ones the most. She's also a bit egotistical and self-absorbed.
"I ain't your prissy girl," ~Dakota talking to boys who diss her
"Nope."
"Bow Wacka Wow!" ~a catchphrase she adapted from Dolly
"Oh, look! A trash can. JUST WHERE YOU BELONG!" (Clarissa)
*reply* "Naw, dog. Stick your head in there and you'll feel right at home." ~Dakota's comeback to Clarissa.
Dylan- Dylan is like that lame nerd boy at school to Dakota, even though deep down she does care for him (kinda not really)
Dolly- Dolly is Dakota's BFF, and their relationship are like very close sisters
Cosmo- She loves Cosmo, but is annoyed at how she seems to think as Dylan as some super cool older brother (Cosmo by me; don't steal)
Daichi- Dakota think's he's boring (Daichi by me, don't steal)
Triple D- she likes their attitudes
Dizzy- she thinks they're adorable
Dee Dee- she thinks they're adorable
DJ- DJ is like a cool brother to Benni
DaVinci- She loves her artistic style
Benni is asexual, meaning she is not attracted to men nor woman. She doesn't have crushes. And she have pride 🏳️‍🌈
in Progress
Dolly
Dylan (the slightest bit)
DJ
DaVinci
Dizzy and Dee Dee
Summer
Diamond (formerly known as Duke; my OC
Fergus
Big Fee
Sid
Dolly
Dylan
Delilah
Doug
Daichi
Dorothy
Dizzy
DeeDee
Delgado
DJ
DaVinci
Diesel
Deepak
Dimitri Trio
Tripe D
84 other pups
She is just called Dakota by most.
Her Canal Crew name is Daring Dakota
None yet, check back soon!
Dakota is my sona, meaning she is a version of me
I have been brainstorming her since I first started watching the show
She is the best skateboarder in Camden, even more than Dolly
She is part of the Dalmatian Family
She is ace
Casual- She doesn't wear any clothing, except her bandana and bracelet, which she always wears (See ref sheet)
Skateboard- She wears her helmet and rides her skateboard, plus her casual outfit accessories (see ref sheet)
Winter- Dakota wears a dark teal beanie with a white puffball, and winter boots of the same color with white fluff. She also wears her bandana and bracelet.
Music- She wears her bandana, bracelet, and a pair of headphones (see ref sheet)
Well, she doesn't really have a collar, but she has a bandana, which DaVinci designed herself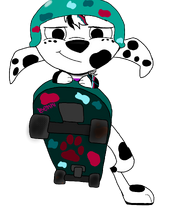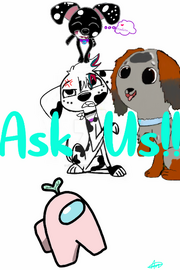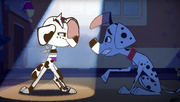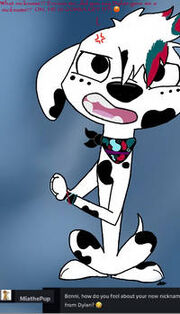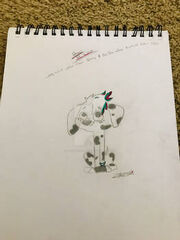 Art by others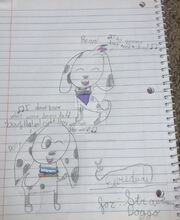 Community content is available under
CC-BY-SA
unless otherwise noted.